Moviediva

Add Moviediva as a friend

Moviediva will be notified and will have to accept this friendship request, to view updates from Moviediva and their ratings you must follow them.

Remove Moviediva as a friend



Lists
Recent reviews

Posted : 8 years, 10 months ago on 17 March 2013 12:24 (A review of
Agent 8 3/4 aka: Hot Enough For June
)
This looks amusing, and I adore a good parody. While I am not an avid Bond fan, I am familiar enough with the franchise to be curious about this film.

0 comments,
Reply to this entry

Posted : 8 years, 11 months ago on 3 February 2013 12:36 (A review of
Baby Face (1933)
)
Probably my favorite pre-code film which possesses an uncharacteristically upbeat ending full of hope. A beautiful, saavy, young girl longs to escape the confines of the slums and works her way up through the ranks of the banking corporation and into the upper echelons of society only to discover that money (ah... shall we say... though it be trite) does not buy love. Though too much of a spoiler for some... I will say as a hopeless romantic that love does! For that reason,strangely it is all at once a searing drama, heart-tugging romance, and a commentary on the depths of human emotion and desire. Stanwyck is brilliant. A must see for Pre-Code fans or anyone who celebrates the beauty of love and cherishes the lesson: "To Thine Own Self be True..."

0 comments,
Reply to this entry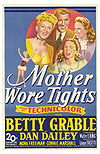 Posted : 8 years, 11 months ago on 2 February 2013 03:47 (A review of
Mother Wore Tights
)
My favorite musical alongside Meet Me In St. Louis. A sweet remembrance of a bygone era with beautiful songs in the frame of gorgeous technicolor. Utilizes the sentimental voice of a narrator who lovingly recalls their childhood and captures that spirit. This will put the viewer in mind of Our Vines Have Tender Grapes and I Remember Mama.

0 comments,
Reply to this entry

Posted : 8 years, 11 months ago on 2 February 2013 12:20 (A review of
1776 (Restored Director's Cut)
)
Fresh, unique, and entertaining. History comes alive as the founding fathers discover purpose, embrace love, and colonize unsettled lands. The Declaration of Independence is but a small piece of this effort-- the greater part is the song they find within their hearts. Freedom is celebrated from sea to shining sea!

0 comments,
Reply to this entry
Movies
TV
Games
Music
Books
Favorite Authors
Jane Austen
,
Jean Webster
,
Harper Lee
,
Mark Twain
,
Jean Shepherd
,
John Steinbeck
,
William Faulkner
,
O. Henry
,
Richard Peck
,
Lynn Austin
,
James Hilton
,
Booth Tarkington
,
C. Keene
,
John William Waterhouse
,
Thomas Wilmer Dewing
,
Edna Ferber
,
Elizabeth George Speare
,
John O'Hara
,
Emily Dickinson
DVDs
My feed

Worst Christmas Movies In History (16 movies items)
"I agree with most of your list except for The Polar Express and The Holiday. Truly, though, I am a bit of a sentimentalist and romantic. Otherwise, you are right on the money"
8 years, 9 months ago

The Evolution of John Candy (62 tv items)
"A truly talented actor and sweet man. He is still greatly missed; there will never be another..."
8 years, 9 months ago

101 movies I would take along to desert island (101 movies items)
"That's an interesting question; maybe I would reenact them. LOL"
8 years, 11 months ago
Comments